In this shifting world, heading into the Age of Aquarius - the terms of life are changing People don't want to conform to society They want more meaningful careers and relationships They are less motivated by money and more motivated by internal wisdom More psychic gifts are coming online and even more near death experience conversations are being talked about Plant medicines are making a come back, but how do you partake of them safely? People are becoming more health conscious but where does one turn amidst so many magic pills and quick fixes? How does one really meditate and quiet the mind? How does one go about becoming more in tune and more "spiritual"? Misty Magdalena Grace and her guests are here to help you improve your health and wealth creation, by going INWARD to ultimately trusting your own innate Wisdom But how do we do that? Tune in to learn! Formerly known as Lois Koffi, now her ceremonial spiritual name is Misty Magdalena Grace (Magdalena for short). She is a plant medicine woman/spiritual teacher & microdosing coach, focused on mental/physical/spiritual health. She specializes in psilocybin, ayahuasca, jurema and psilohuasca. She has been a coach for 23 years, coaching 20,000 plus people in both health and fitness, as well as business/sales. She has seen so so many people focus on the external DOING of goal setting, new year's resolutions and intention setting and realized that most of our success lies WITHIN. She has had her own awakening journey of working through addictive behaviors, depression/anxiety and struggles as well as many victories and successes. She has lost 12 friends to suicide and many to addiction and has a huge vision/mission to help people safely with sacred plants (noting there is a wrong way and a best way to partake) She has trained with several plant medicine women and shamans through initiations and deep dive healing over 50 times. She is here for YOU to get to the ROOT CAUSE of your health and wealth limitations. She helps guide you with love and compassion with mind/body/spirit fitness as a transformational coach using guided visualization and many other tools in her vast tool belt to get you to live the life you LOVE with superconscious creation with your Higher Self - living YOUR TRUTH.
Episodes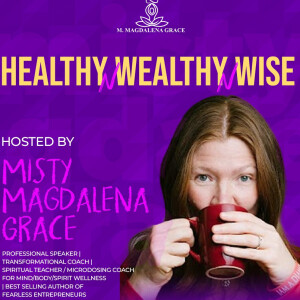 Tuesday Jul 04, 2023
Tuesday Jul 04, 2023
TESTIMONIAL TUESDAY FOR MENTAL HEALTH & ADDICTION FREEDOM
Today is a holiday in the US, called the 4th of July
It focuses a lot on independence and freedom
And, yet, while I am grateful for this concept of freedom....I still see a LOT of in-dependence (or codependence) on pharmaceuticals of all kinds, addictions of all kinds in our country
I think not....my heart doesn't understand
And my husband and I personally won't rest until we've helped many get off medication dependency, as well as addiction
And addiction is impacting EVERYONE
You can be addicted to thoughts
You can be addicted to fear
You can be addicted to being right!
You can be addicted to the need for a relationship and not being able to be alone
You can be addicted to sugar
You can be addicted to food
Perfectionism
Alcohol
Cannabis (in an unsacred way)
Drama dopamine hits
Trauma responses
Religious hate
Social media
Meetings
Etc.
The list goes on and on and on and on
How do I know?
I've lived it
I've been initiated and trained in a lot of my own work with spiritual guides, teachers and plant medicine experts/shamans and then some who have shown me my own dependencies
Anytime anything that stops us from experiencing all of our emotions (good/bad and otherwise) and distracts us from FULLY living....that is what I talk about helps us escape true FREEDOM of mind, body and spirit
We are spiritual Beings having a human experience and gosh darn it, we get to experience it ALL
Yet, we have been taught to stuff down a lot of the "bad" or judge ourselves for not being "perfect"
And if we deny or rob ourselves of these deep spiritual lessons, we will stay addicted, looking for a quick "fix" to fix ourselves or stay on medications with side effects that do not serve us or whatever is robbing us of true, deep health and vitality and enjoying this delicious world we live in
Check out our last best client and hear her experience after completing a couple deep dive healing sessions....
Forward to a friend you know and care about
REGISTER FOR MY NEXT FREE PLANT MEDICINE CLASS
SIGN UP TO WIN A FREE PLANT MEDICINE CEREMONY AND HELP ME CELEBRATE MY 3RD YEAR PODCAST ANNIVERSARY AND RELAUNCH