In this shifting world, heading into the Age of Aquarius - the terms of life are changing People don't want to conform to society They want more meaningful careers and relationships They are less motivated by money and more motivated by internal wisdom More psychic gifts are coming online and even more near death experience conversations are being talked about Plant medicines are making a come back, but how do you partake of them safely? People are becoming more health conscious but where does one turn amidst so many magic pills and quick fixes? How does one really meditate and quiet the mind? How does one go about becoming more in tune and more "spiritual"? Misty Magdalena Grace and her guests are here to help you improve your health and wealth creation, by going INWARD to ultimately trusting your own innate Wisdom But how do we do that? Tune in to learn! Formerly known as Lois Koffi, now her ceremonial spiritual name is Misty Magdalena Grace (Magdalena for short). She is a plant medicine woman/spiritual teacher & microdosing coach, focused on mental/physical/spiritual health. She specializes in psilocybin, ayahuasca, jurema and psilohuasca. She has been a coach for 23 years, coaching 20,000 plus people in both health and fitness, as well as business/sales. She has seen so so many people focus on the external DOING of goal setting, new year's resolutions and intention setting and realized that most of our success lies WITHIN. She has had her own awakening journey of working through addictive behaviors, depression/anxiety and struggles as well as many victories and successes. She has lost 12 friends to suicide and many to addiction and has a huge vision/mission to help people safely with sacred plants (noting there is a wrong way and a best way to partake) She has trained with several plant medicine women and shamans through initiations and deep dive healing over 50 times. She is here for YOU to get to the ROOT CAUSE of your health and wealth limitations. She helps guide you with love and compassion with mind/body/spirit fitness as a transformational coach using guided visualization and many other tools in her vast tool belt to get you to live the life you LOVE with superconscious creation with your Higher Self - living YOUR TRUTH.
Episodes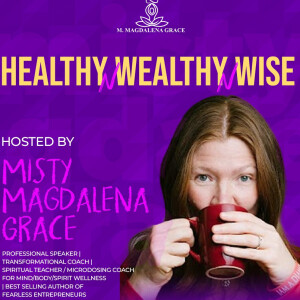 Monday Aug 14, 2023
Monday Aug 14, 2023
Podcast Interview with Anthony Chene, NDE (near death experience) filmmaker
We talked about DEEP stuff that many don't talk about openly due to fear or societal judgment
Millions of people have had near death experiences and don't always know how to share that, once they've seen the other side
It can also be traumatic when you feel isolated and alone and now possibly seeing/hearing things that others don't believe in or experience
Today we aim to bring hope to this conversation in a rare, almost never done interview with Anthony Chene who has done COUNTLESS interviews on NDE's and many other great films on enlightenment and awakening spiritually
You are not alone!
My husband has also gone through this and for us as a family, it was very traumatic and scary - until we found help!
As we go into this new age of Aquarius - many people are experiencing NDE's OR they are experiencing new spiritual gifts that are coming online that they don't know how to share or talk about.
We want to talk more about this so people can find community and not feel judged or shameful.
Let's come together out of love and compassion and support one another!
Anthony started out as a freelancer (DOP, director, or video reporter) for various clients, and also developed his own projects (documentaries, videoclips, fiction).
Find him on youtube at https://www.youtube.com/@AnthonyCheneProduction

And his website:    www.AnthonyChene.com
FIND OUT MORE ABOUT MAGDALENA GRACE HERE:
https://linktr.ee/magdalenagrace