In this shifting world, heading into the Age of Aquarius - the terms of life are changing People don't want to conform to society They want more meaningful careers and relationships They are less motivated by money and more motivated by internal wisdom More psychic gifts are coming online and even more near death experience conversations are being talked about Plant medicines are making a come back, but how do you partake of them safely? People are becoming more health conscious but where does one turn amidst so many magic pills and quick fixes? How does one really meditate and quiet the mind? How does one go about becoming more in tune and more "spiritual"? Misty Magdalena Grace and her guests are here to help you improve your health and wealth creation, by going INWARD to ultimately trusting your own innate Wisdom But how do we do that? Tune in to learn! Formerly known as Lois Koffi, now her ceremonial spiritual name is Misty Magdalena Grace (Magdalena for short). She is a plant medicine woman/spiritual teacher & microdosing coach, focused on mental/physical/spiritual health. She specializes in psilocybin, ayahuasca, jurema and psilohuasca. She has been a coach for 23 years, coaching 20,000 plus people in both health and fitness, as well as business/sales. She has seen so so many people focus on the external DOING of goal setting, new year's resolutions and intention setting and realized that most of our success lies WITHIN. She has had her own awakening journey of working through addictive behaviors, depression/anxiety and struggles as well as many victories and successes. She has lost 12 friends to suicide and many to addiction and has a huge vision/mission to help people safely with sacred plants (noting there is a wrong way and a best way to partake) She has trained with several plant medicine women and shamans through initiations and deep dive healing over 50 times. She is here for YOU to get to the ROOT CAUSE of your health and wealth limitations. She helps guide you with love and compassion with mind/body/spirit fitness as a transformational coach using guided visualization and many other tools in her vast tool belt to get you to live the life you LOVE with superconscious creation with your Higher Self - living YOUR TRUTH.
Episodes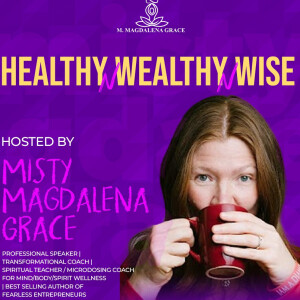 Tuesday Sep 26, 2023
Tuesday Sep 26, 2023
One of the biggest CORE wounds that I discovered on my journey was the religion wound
I shared that with you this Easter holiday earlier this year
Which was terrifying for me....however necessary, because it was a huge part of my root cause of my autoimmune disease, as well as my addiction journey
Since then I have been microdosing with ayahuasca and healing/softening so much into my sacred feminine
And that opened a door for my client, Cat Storing!
Now she has her own healing story with God and what she calls her "church wound"
A Content Monetization Strategist, Amazon Best-Seller and author of over two dozen books, creator of multiple courses, writing coach, keynote speaker, and certified life coach, I\She have been leveraging her passion for words, books, and writing to help others share their authentic voice and expertise with the world for over 20 years. 
She is the creator  of The Teach Your Easy Program, WMS PRESS, and have been coaching individuals even when she didn't realize it yet. Through her expertise, She now have the opportunity to work with experts, authors, speakers, coaches, and entrepreneurs to help them create and consistently share their knowledge through digital programs.

You can learn more about Cat at:
https://www.imonetizeyou.com/workshop

FIND OUT MORE ABOUT MAGDALENA GRACE HERE:
https://linktr.ee/magdalenagrace

JOIN OUR HEALTHY N WEALTHY N WISE MICRODOSING COMMUNITY WITH AYAHUASCA SUBSCRIPTION HERE:  

LEARN ABOUT MICRODOSING FOR YOUR HEALTH/WEALTH/WISDOM JOURNEY
https://microdosingforhealth.now.site

WANNA SIGN UP AND BE A PLEDGING PATRON FOR HEALTHY N WEALTHY N WISE? https://patron.podbean.com/loiskoffi
JOIN OUR TELEGRAM CHANNEL FOR MORE INSPIRATION  
https://t.me/healthynwealthynwise
JOIN HER FACEBOOK COMMUNITY AT HER PODCAST WEBSITE: www.healthynwealthynwise.com
SUBSCRIBE TO HER YOUTUBE CHANNEL: https://www.youtube.com/loiskofficoffee